Copyright AFP 2017-2021. All rights reserved.
An image of a burning building has been shared hundreds of times on Facebook alongside claims that it shows Nigeria's presidential residence, popularly known as Aso Villa or Aso Rock, on fire. This is false; the image was taken last year and shows a marketplace allegedly set ablaze in southwestern Nigeria.
The image has been shared more than 270 times here and was posted to Facebook on March 7, 2021, in the form of "breaking" news, claiming that it showed "Nigeria's Presidential Villa, Aso Rock On Fire".
Part of the post, published on a page that calls for a separatist state of Biafra in the country's south, reads: "A fire outbreak has been reported at the Nigeria's Presidential Villa in Aso Rock, Abuja, causing confusion among workers in President Muhammadu Buhari's abode… Radio Biafra Israel gathered that the fire started at 4 pm as the fire service officials tried desperately to put it out…"
The post proclaims that the fire came from God and that "Nigeria has come to an End now, since Aso Rock has been burn down totally (sic)".
A screenshot taken on March 10, 2021 showing the false post
Presidency: No fire at the villa
A recent bushfire within the grounds of President Muhammadu Buhari's official residence was extinguished without damage to the villa itself.
"In the evening of Saturday, March 6, a fire broke out burning shrubs between the outer wire fence and walls surrounding the Villa, precisely in the area between the Villa and the Barracks, towards Asokoro," tweeted presidential spokesman Garba Shehu on his verified Twitter account.
"It suffices to say that this bushfire, which started and ended outside the perimeter walls of the Villa, was seamlessly contained by fire stations of the State House and the one nearby from the Federal Fire Service."
No loss of life or property was reported.
What does the picture show?
A reverse image search led to an online report published on May 17, 2020, describing a devastating fire that gutted Dugbe Market in Ibadan, a city in southwest Nigeria, a month earlier. The article, alleging an arson attack, carried the same picture used on Facebook to claim the president's official residence had burned down.
Screenshot from the 2020 article, taken on March 10, 2021
Another report, published by Nigeria's Guardian newspaper a day after the fire on April 15, 2020, also featured the same picture, credited to photographer Najeem Raheem.
AFP Fact Check found a visual of the building on Google Maps here, before the fire that destroyed it. It looks nothing like the presidential villa, which is much larger, with smooth walls painted a bright white and numerous arches.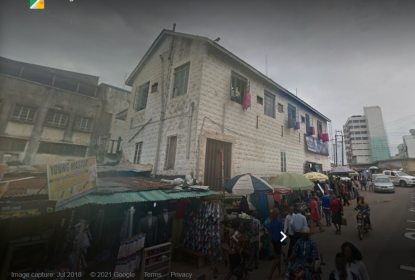 A Google Maps screenshot showing the location of the fire as captured in 2018, before the blaze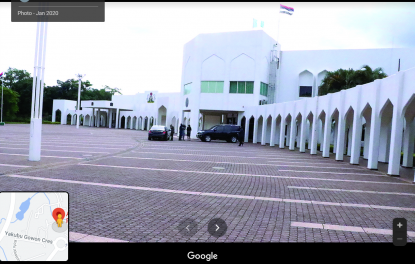 A Google Maps screenshot taken on March 11, 2020 showing the presidential villa, which looks nothing like the building in the false post
EDIT 12/03/21: Adds reporter's byline